Kyle Pitts Burns Sauce Gardner During Jets-Falcons Joint Practices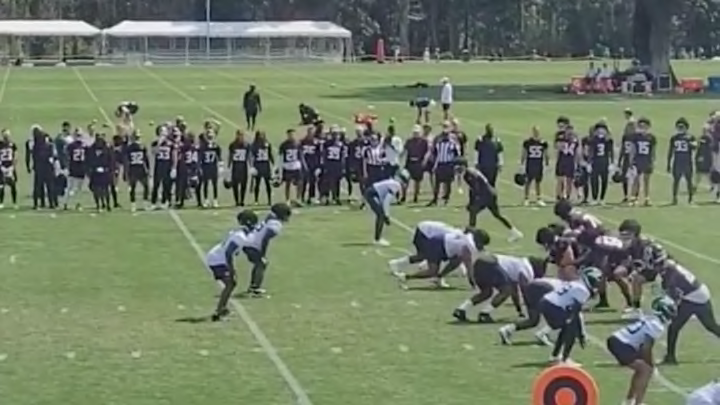 Kyle Pitts v. Sauce Gardner /
The New York Jets are hoping Ahmad "Sauce" Gardner can be the second coming of Darrelle Revis in Robert Saleh's defense. The No. 4 overall pick from this year's draft reportedly had an excellent camp leading into the Jets' joint practices with the Atlanta Falcons this week.
At one point during those practices, Gardner faced his first true test in Kyle Pitts, the No. 8 overall pick in the 2021 NFL draft who recorded over 1,000 yards in his rookie season. To put it bluntly, Gardner got absolutely toasted by the tight end and it would've ended up on Sportscenter if whoever was playing QB for the Falcons didn't airmail the pass.
Observe, if you will, the top of the screen on the video below.
Jets coaches will certainly nitpick Sauce here but this is more a great rep by Pitts than a bad rep by Gardner. Pitts has unnatural speed and quickness for being 6-foot-6 and burned many a corner in his rookie season. Gardner will learn not to press too hard on guys like that in time.
Alternatively, Gardner is a massive bust and the Jets are a sorry franchise. Pick your reaction!