Latest NFL Leads
Refs Completely Screw Over Bengals With Awful Penalty in Final Two Minutes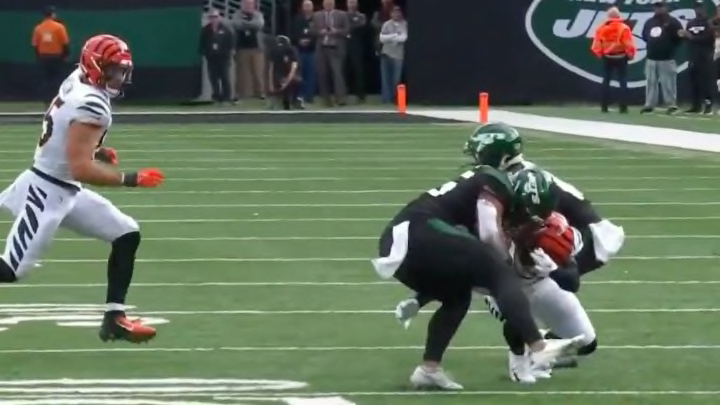 Jets/Bengals /
Mike White led the New York Jets to an absolutely stunning victory over the Cincinnati Bengals on Sunday afternoon. They didn't do it without a little help from the zebras, though.
White drove the Jets down the field and scored a game-tying touchdown. Joe Burrow threw an interception on the first snap after that, and the Jets took a three-point lead. The Bengals couldn't get anything done and punted it back to New York with a little over two minutes left.
Cincinnati had the Jets in a third-and-12 situation right after the two-minute warning. The Bengals had all their timeouts. White checked down to Tyler Johnson, who was immediately taken down for no gain. It sure looked like the Bengals would be able to get the ball back with 1:55 left, down by three, with two timeouts. But the referees absolutely screwed Cincinnati by calling a helmet-to-helmet hit on the third-down tackle.
See for yourself:
I mean... That is just so obviously not the spirit of the rule. Yes, there was helmet-to-helmet contact. But not only did the ballcarrier initiate the contact, he had to bend down to his knee to do it! I don't know what else the Cincinnati defender is supposed to do there. He went as low as he possibly could without crawling to tackle the running back.
The Jets were gifted a free first down as a result of the penalty and gained one more to ice the game. A brutal, brutal call by the referees in a big moment there.