Jenny Taft Reminds Skip Bayless She is Part of 'Undisputed'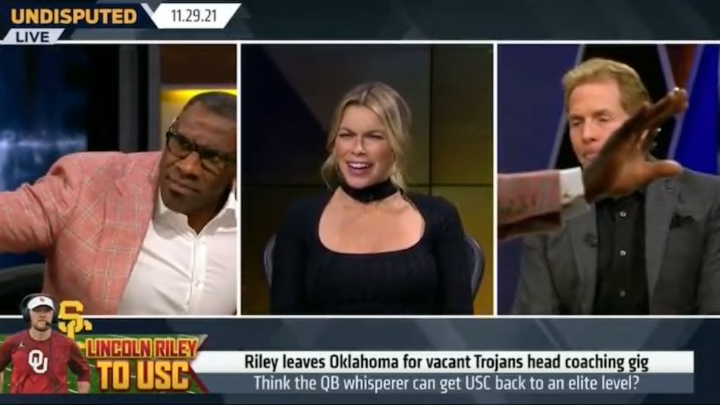 'Undisputed' /
Lincoln Riley leaving Oklahoma to head to USC was the biggest news of the weekend and shocked the college football world. Thus, it is first on the docket for Monday's sports talk shows. Undisputed was no different, as Skip Bayless, Shannon Sharpe, and Jenny Taft tackled the topic first thing.
During the segment, Sharpe seemed to try and bring Taft into the conversation. Bayless then said, "I think you're talking to me," leaving Taft to remind everyone that she is part of the show, too. Taft seemed irritated that Bayless would dismiss her like that and Sharpe quickly raised his arms to cut off Taft, saying, "My bad, Jenny, we're good," before continuing to speak to Bayless.
Here's the full segment:
It seemed like the Undisputed crew was heading towards a heated exchange on-screen similar to how Taft and Bayless got into it back in August. This time, things did not get that far.