J.C. Jackson Suffers Ugly Leg Injury, Looks Like a Massive Bust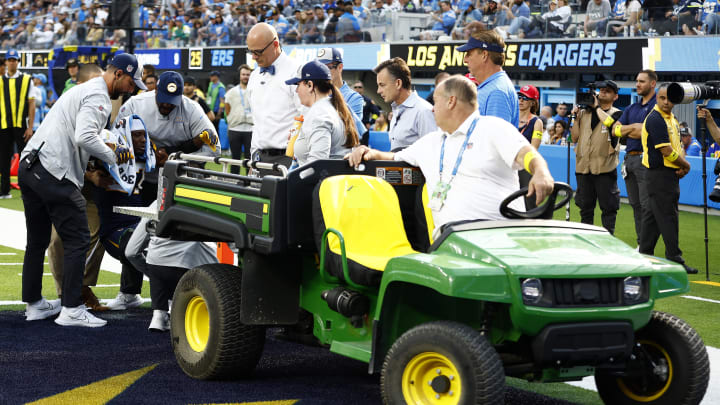 Seattle Seahawks v Los Angeles Chargers / Ronald Martinez/GettyImages
The Los Angeles Chargers signed cornerback J.C. Jackson to a massive five-year, $82.5 million contract this offseason. It looked like a massive coup that filled a big need for LA. Just seven weeks into that deal, it's already looking like a disaster.
Jackson was carted off the field on Sunday against the Seattle Seahawks following an ugly non-contact injury. He was in an aircast as he left the field.
Here's video of the injury:
That does not look good. This injury follows Jackson undergoing ankle surgery during training camp, an injury he was slow to recover from. Once he was back, he didn't play well and was even benched in Week 6 against the Denver Broncos after allowing a 39-yard touchdown, blowing a coverage on a 47-yard pass play and committing a terrible pass interference penalty.
Pro Football Focus has Jackson with a horrendous grade of 29.6 for the season, one of the worst marks for any NFL player. Now he looks to have suffered a serious injury that could keep him out a while.
Jackson's contract guaranteed him $40 million, which is a lot for a cornerback. The Chargers are stuck with him for now and he's been hurt and terrible when he's actually been on the field. There's time for this to turn around but the deal is looking like a massive bust so far.