Jayson Tatum Unimpressed With Grant Williams' Batman Interview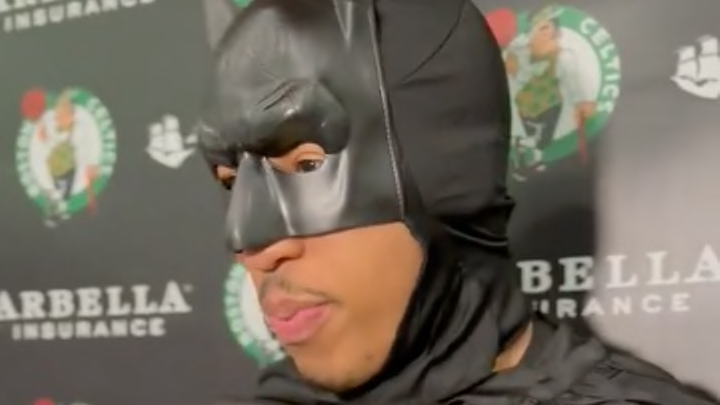 Grant Williams /
The Boston Celtics beat down the Washington Wizards at TD Garden on Sunday evening while the rest of the country watched the Bills do the same to the Packers. As it was the eve of Halloween, a few Celtics players decided to dress up. But only one did his postgame interview in costume-- Grant Williams.
Williams is known by the team for being a comic book nerd, and after he shut down Nikola Jokic (AKA The Joker) in the regular season last year, Williams insisted he be called Batman. This was of great amusement to both the fans and Williams' teammates, but the forward is persistent if anything and it became a bit the team embraced.
So it's no surprise Williams showed up in full Batman attire for last night's game. It was, however, quite unexpected that he not only conducted his postgame interview in costume, but in character. And Jayson Tatum, presumably walking by after doing his own postgame chatting, asked Williams, "Yo, what the f--- is you doing?!"
Just fantastic content all-around. A clear sign the Celtics should give Williams a max contract extension once he hits restricted free agency this summer. There is no price too high for Batman. Or team chemistry.