James Harden Horrified by Joel Embiid's Ability to Drink Water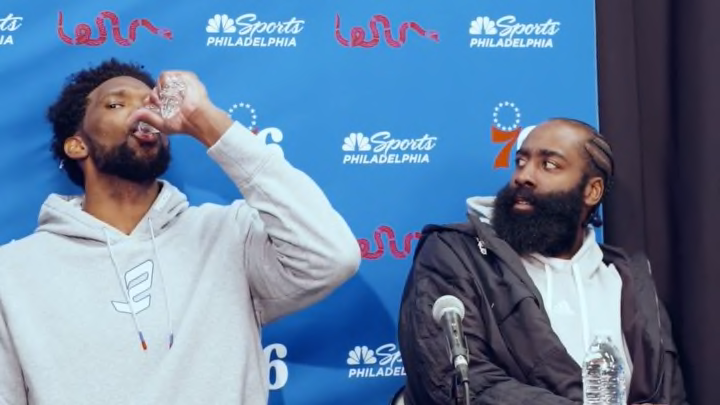 Joel Embiid and James Harden /
James Harden made his debut with the Philadelphia 76ers last night. He was as advertised. Harden recorded 27 points on 7-of-12 shooting and 12 assists, creating the kind of wide-open looks the Sixers simply could not make at any point this year. Joel Embiid told everybody who could hear him afterwards that he'd never been that open in his career. Philly beat the Timberwolves, 133-102, and the future is very bright.
However! The friction may already be manifesting between the team's two stars. After the game, Embiid and Harden did media availability together. Embiid chugged an entire bottle of water in mere seconds while Harden looked on in abject horror.
Seems like something they've gotta hash out if the Sixers want to reach true contender status.
Embiid and Harden combined for 61 points, 15 assists, and 18 rebounds. Crucially, Embiid only needed to play 31 minutes to secure a victory. That will be the biggest impact of Harden's presence. Before the trade, Embiid likely would've needed to record at least 35 minutes on the court to win comfortably like they did last night. Now Harden is there to help shoulder the load.
Real Scary Hours. Unless this water-drinking debacle comes between them.