Jalen Hurts Takes Huge Hit to Head From Tracy Walker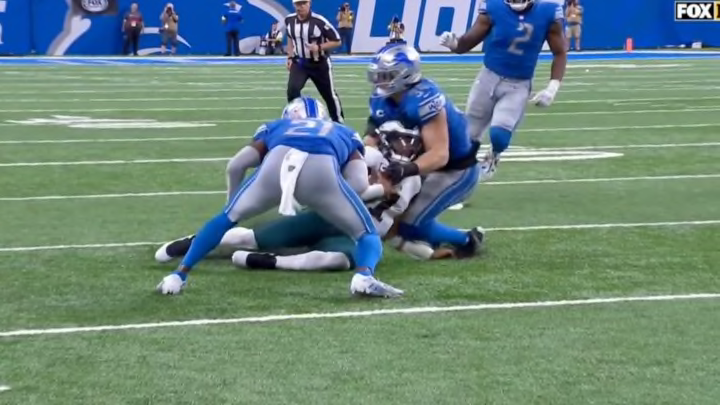 Jalen Hurts /
Jalen Hurts and the Philadelphia Eagles largely lived up to the significant hype surrounding them in Week 1 of the 2022 NFL season, walking into Detroit and scoring many touchdowns against the Lions. Things got chippy throughout the game and eventually everything blew up when Hurts took a big hit to the head after sliding.
The Lions had been toeing the line on hitting Hurts a bit late all game but Tracy Walker took it to another level in the late third quarter and got ejected for this hit.
Yikes. Hurts' late slide caused the linebacker to grab him which is mostly how this hit happened, but Walker was rightfully ejected. That's a bad hit on anybody and especially on a sliding quarterback.
Lions fans, safe to say, do not agree with the above sentiment. Eagles reporter John Clark said the fans in attendance at Ford Field were chanting "bullsh-t" as the referees announced the penalties.
There are times to chant such a thing and let the referees know they messed up. This was not one of those times.