Jalen Carter Dove Between the Center's Legs and Nearly Intercepted Patrick Mahomes' Intentional Spike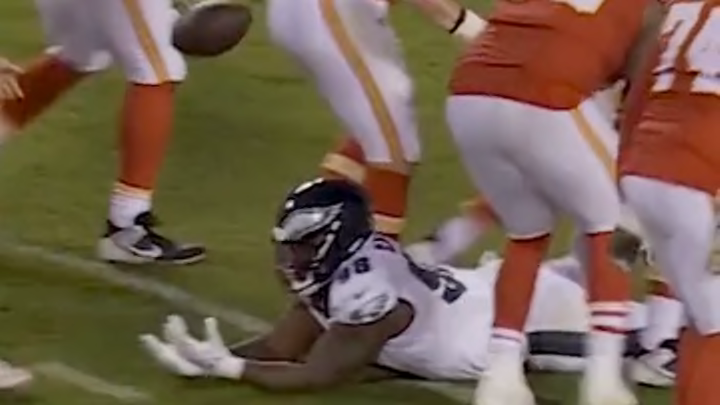 The Philadelphia Eagles and Kansas City Chiefs met in a Super Bowl rematch on Monday Night Football to close out Week 11 of the NFL season. The Chiefs took a 17-7 lead into halftime following a Harrison Butker field goal. To set up the field goal Patrick Mahomes had to kill the clock at the end of the second quarter. That's when Eagles defensive tackle Jalen Carter tried to interception the intentional spike by diving through the legs of KC center Creed Humphrey.
The timing was impeccable and Carter actually appeared to get both hands under the ball as Mahomes threw it to the ground. Unfortunately, the ball bounced up and then safely back to the ground, but what an incredible effort.
If you're wondering, has anyone ever tried this before, the answer is yes, kind of. According to Domonique Foxworth, Ed Reed to used to try and do this to Joe Flacco during practice when they were all with the Baltimore Ravens.
Having heard this and seen what Carter did, it's clear that this is possible, but catching it clean seems unlikely. Of course, if more players start trying this, it will probably end up inspiring a rule change for safety reasons.