Jake Paul Claims Logan Paul Would Knock Myles Garrett Out in Boxing Match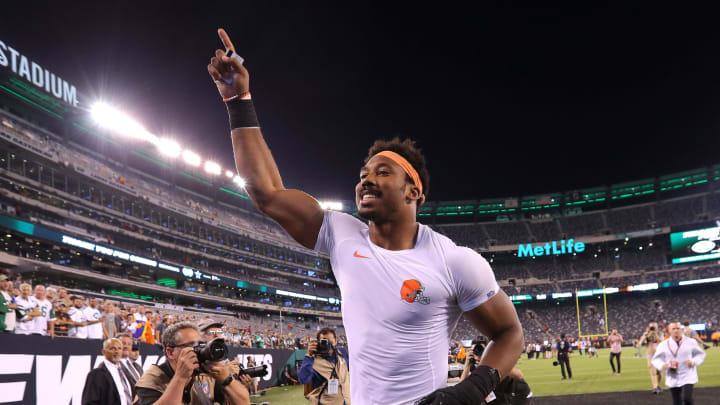 Myles Garrett / Mike Lawrie/Getty Images
Myles Garrett is preparing for this fourth NFL season with the Cleveland Browns. Jake Paul and Logan Paul are continuing to try and stir up controversy to help promote their brand and their absurdly profitable "celebrity boxing matches." The only reason those two things are related is because Garrett said in an interview last week that he'd "beat the brakes off" Logan Paul if he entered the celebrity boxing ring.
The Paul brothers, of course, got wind of this and are already using it to their advantage. Jake Paul appeared on 3 Things To Know with WKYC Cleveland's Stephanie Haney today. She asked him about Garrett's comment. Jake, with all the confidence of a showman, said Garrett should stick to football and his brother Logan would knock him out if they ever got into the ring.
He cited Logan's takedown of Nate Robinson as an example for how professional athletes can't easily transition to boxing and that it's a sport that takes time and practice to truly be good at.
I'm obviously leaning into their PR thing here, but I just want to get one thing straight. We're talking about this Myles Garrett?
This Myles Garrett, right?
The same Myles Garrett who comes in at 6-foot-4, 270 pounds? A true freak of nature in a sport where everyone is the elite of the elite in the athleticism department?
I just wanted to make sure. Because I don't think it's possible for anyone to knock that man out.