Jaguars Safety Rayshawn Jenkins Punches Niners' Jauan Jennings, Gets Ejected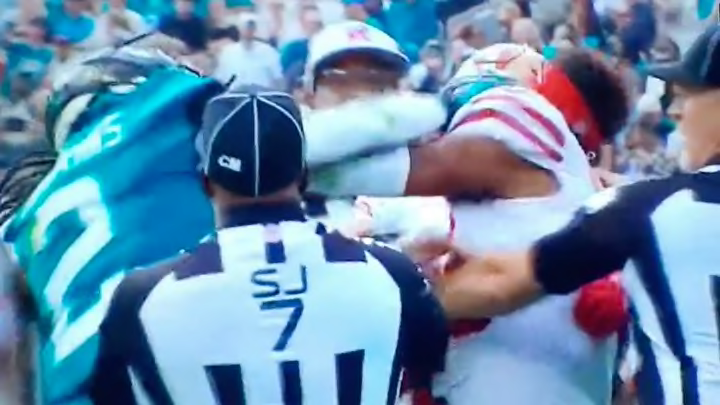 The San Francisco 49ers visited the Jacksonville Jaguars on Sunday and absolutely manhandled the home team through the first quarter and a half. The Niners started the game with an 88-yard, 13-minute drive before forcing the Jags to go three-and-out. They then had another long drive ending in a Deebo Samuel rushing TD before forcing a fumble on the first play of Jacksonville's next possession.
All that resulted in the Jacksonville defense being on the field for the vast majority of the first half, and it was only a matter of time before tempers flared. That happened when Jaguars safety Rayshawn Jenkins punched Niners defender Jauan Jennings right in front of the refs and was promptly ejected. Jenkins had scuffled with Jennings after the play and ripped his helmet off before throwing the haymaker.
Yeah, that'll definitely do it. The fact that it was more of an open-hand, forceful slap than a punch will probably save Jenkins some money in the inevitable fine he'll get next week, but it's all the same to officials in the moment.
Given how things have gone for the 2-7 Jaguars this year, Jenkins should probably practice keeping his head cool. It'll get worse before it gets better for his team.