Jaguars Fans Dressed as Clowns For Season Finale vs. Colts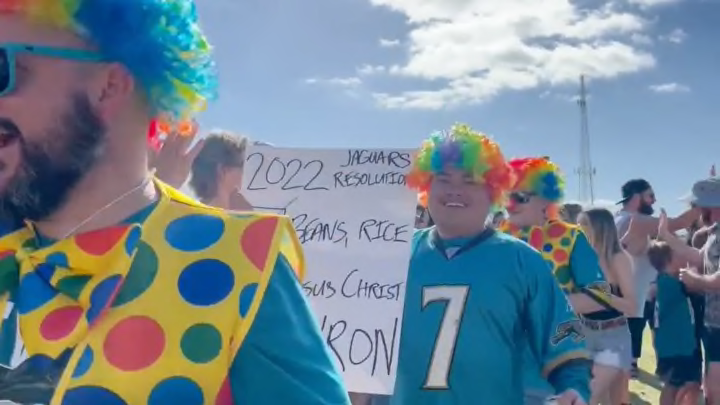 Jaguars Clowns /
The Jacksonville Jaguars had a horrible year that everybody wants to put behind them, but have one last game to play against the Indianapolis Colts. The franchise fired Urban Meyer weeks ago and are already looking for his replacement. Owner Shad Khan, however, is not letting go of GM Trent Baalke, much to the disconcertion of Jaguars fans everywhere.
Baalke is widely considered a subpar general manager and the last two years of Jacksonville football has proved that much. But he has Khan's ear and will apparently not suffer any consequences from his role in the Meyer debacle. The Jaguars faithful are so unhappy about this that they began an online movement to show up to the team's final home game decked out in clown gear, and much to my personal surprise they actually did it!
Their frustration is understandable. Anyone who had anything to do with the Meyer hire should probably be gone. That's how much of a catastrophe that was. Baalke also has a rather poor reputation around the league and Jay Glazer even said this morning that many of the Jags' targets for their next head coach are backing off because they don't want to work with Baalke. Keeping a person like that despite... everything is a sign of a dysfunctional franchise and that level of dysfunction starts from the top-down.
It is rather doubtful that Khan changes his mind about anything based off a bunch of fans dressed as clowns. But he should appreciate everyone's dedication to the bit. Very rarely does an online movement reflect reality to this degree.