Latest College Basketball Leads
Iowa Screwed By Missed Call in Upset Loss to Richmond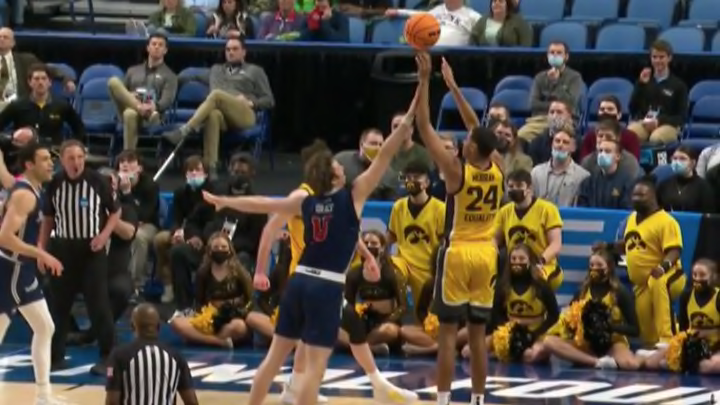 Kris Murray clearly fouled on a 3-point attempt by Richmond defender. /
Iowa entered the NCAA Tournament as one of the hottest teams in the country. The Big Ten Tournament champions were a sexy Final Four pick as a five-seed. They opened play on Thursday against 12-seed Richmond and suffered a 67-63 upset loss. But one missed call may have changed the game and given the Spiders the win.
Iowa trailed 60-57 with one minute left in the game when Kris Murray rose up to take a 3-pointer from the right wing. Richmond's Matt Grace closed out hard and clearly hit Murray's wrist as he released his shot. The ball fluttered a few feet short of the rim and Richmond took possession. It was a blatant foul that should have led to three shots, instead the Spiders had possession and a chance to extend their lead.
Here's video of the play at full-speed.
And another, better angle.
And another clear look.
There's no other way to say it, the Hawkeyes got screwed there and now their season is over. College basketball can be cruel.