Ian Rapoport Basically Tells Pat McAfee That Kyler Murray is Short and Hard to Coach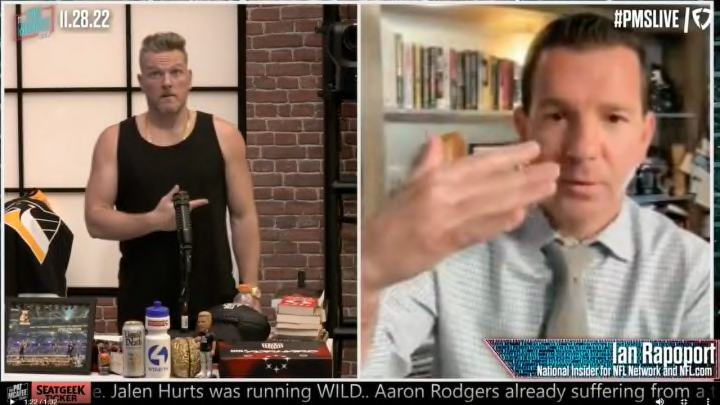 Ian Rapoport appeared on The Pat McAfee Show on Monday to discuss the situation with Kyler Murray and the Arizona Cardinals following their latest loss to the Los Angeles Chargers. Rapoport pulled no punches implying that a new coach might not have any more luck than the currently embattled Kliff Kingsbury because he's hard to coach.
"I think it's always tense with Kyler. [Kliff] always works hard, but he's very chill. With Kyler, it's always testy. I know we all, I mean including me, I did a thing on this this weekend, we're kind of focused on that relationship. I would imagine its going to be intense with any coach and Kyler because he wants what he wants and he sees what he sees and he's very demonstrative about it. And he's kind of curt a little bit. [snaps] Like quick and... [snaps] he's very blunt. I'm not going to say short because he's also... [gesture]"
That's when the McAfee crew got vocal, with the host pointing out that Rapoport himself isn't super tall. But it was already too late. This was a plugged in NFL reporter confirming that Murray is probably as difficult as he has appeared in clips where he's yelling at Kingsbury. Not exactly the kind of thing a team wants floated on a popular radio program about the quarterback they just gave a hundred million dollars guaranteed.