Ian Rapoport Reacts to JK Dobbins Tweet Live on 'Pat McAfee Show'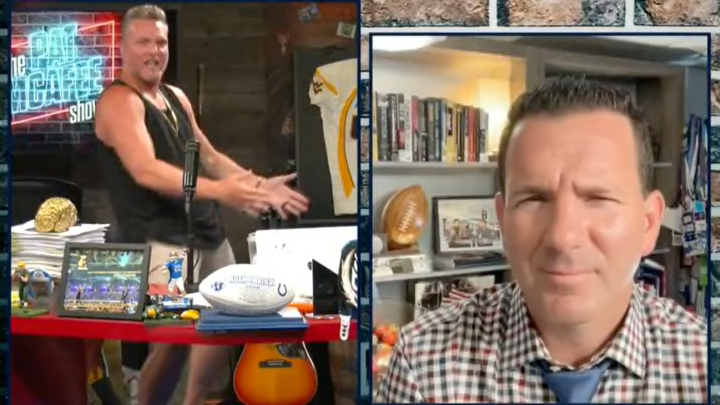 Pat McAfee and Ian Rapoport /
On Monday, we had the ever-so-rare interaction between an NFL insider and a professional athlete in the public eye. Ian Rapoport jumped on NFL Network to report that J.K. Dobbins isn't a guarantee to suit up in Week 1 after a brutal knee injury knocked him out of the 2021 season entirely. He continued by noting the Baltimore Ravens aren't going to rush him back because they signed Mike Davis this offseason. Dobbins saw that and tweeted in response that his knee rehab is going great, actually, and Rapoport should come to him as a source next time.
In a tremendous twist of fate, Rapoport was on air with Pat McAfee when the Pat McAfee Show crew got wind of the tweet. Thus, we have Rapoport's live reaction to the Dobbins tweet, along with McAfee gleefully humping the air.
We're inclined to side with Rapoport here as to whether or not Dobbins really "dunked" on him. The NFL Network insider never said Dobbins' rehab was going poorly, just that his injury was nasty enough to exercise caution for Week 1 and the team has no need to get him out there before he's absolutely ready. Dobbins' emphatic response could barely even be considered disputing of what Rapoport put out there.
Great response from Rapoport, though. It's tough to be put on the spot like that and I'd imagine it's even more so with McAfee crowing in the background. Excellent content by all parties.