'House Of The Dragon' Midseason Check-In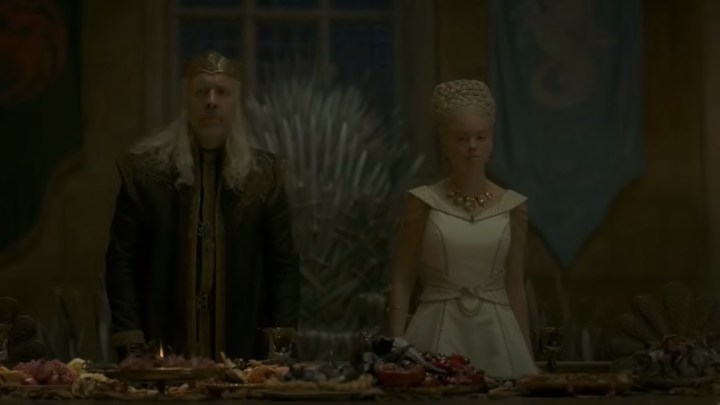 Courtesy of HBO /
0:30-7:00: Intro and immediate reactions to the events of Episode 5, titled "We Light The Way." Stephen makes the case that this wedding was more depressing than any other in the history of Westeros. Criston Cole had quite a couple of days and perpetrated a truly violent murder that ranks very highly on GoT brutality.

7:00-11:40: Breaking down the particular filming aspects of the wedding. A round of applause for Milly Alcock and Emily Carey, who will not be seen again going forward. The actresses replacing them have big shoes to fill. In the big picture, Episode 5 felt like a plotline reset, which isn't the first time that's happened. Is the movie on or off, Vince?

11:40-17:45: King Viserys' physical decline did not slow this week. Gotta feel bad for him a little bit, all things considered. A few new characters were introduced that could end up being important once the time jump happens. Criston Cole is the drama king of Westeros.

17:45-23:35: The sexuality-as-dinner conversation between Rhaenyra and Laenor was incredible. Prince Daemon is in a chaotic spiral and appears to be loving every moment, but is there a plan at all for him? More importantly, what's going to happen with his hair during the time jump?

23:35-: Giving our midseason review ratings and final thoughts.
HBO's House Of The Dragon has reached its midseason point. Liam McKeone and Stephen Douglas get together and instantly react to yet another violent wedding in the GoT universe and everything else that happened in a rather eventful fifth episode. The two also take stock about where the show is right now and where it could go in the last half, along with some pointed criticism and praise about what's happened so far. And, as always, several minutes are dedicated to wondering what kind of plan Prince Daemon has.