Wedding Party Celebrating Miami Heat Victory Had No Clue Boston Actually Won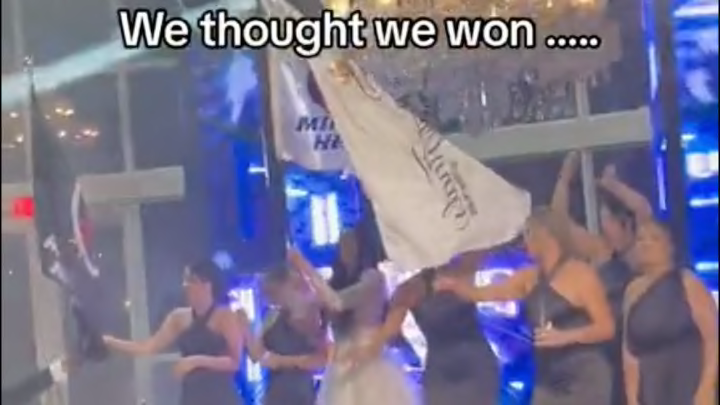 The Miami Heat suffered a heartbreaking, last second loss to the Boston Celtics on Saturday night when Derrick White tipped in a Marcus Smart miss just before the buzzer. While Celtics fans were elated, Heat fans around the world were devastated. Except for one group who may still think the Heat are headed to the Finals. .
A large group of people attending a wedding in Florida went crazy as time expired on Saturday night as they were watching the end of the game on their phones and stopped paying attention when Smart's heave rimmed out. Former college baseball player and current TikToker Cory Garrastazu recorded the reaction as people ran around with smoke machines and giant Heat flags.
On Garrastazu's Insta stories you can see that the parents of either the bride or groom entered the reception waving them. And the bridesmaids appeared to be waving towels from Miami white outs. The handheld fog machine obviously came into play later in the evening.
My only question is why didn't they have a projector set up or something? Why are these massive Heat fans watching the game on their phones? You'd think someone could have bought a 32" flat screen for the wedding party to crowd around. It's also sucks that we don't have a full five minutes of video of the news eventually spreading around the venue that the Heat had actually lost, with these three being the ones who had to start taking people aside to break the bad news and ruin the wedding.
Or maybe they just let it go. They let the rest of the people there continue to live in a world where the Heat aren't headed back to Boston for Game 7. The DJ must have wondered why that guy had tears in his eyes as he requested Pepas.