Refs Ignored a Blatant Gonzaga Travel on the Play Where They Finally Took the Lead Against TCU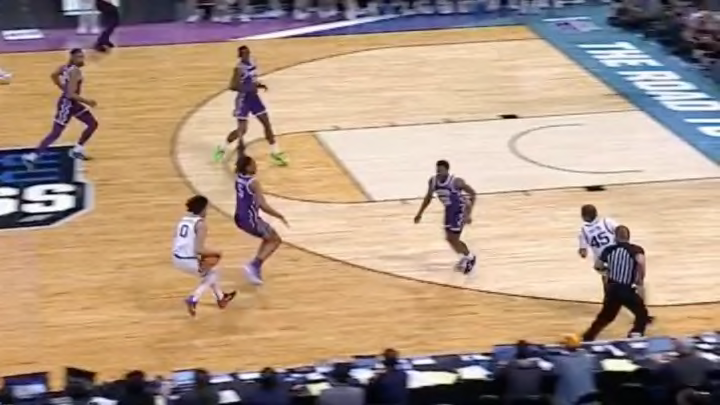 Gonzaga beat TCU, 84-81, to advance to their eighth consecutive Sweet 16. TCU held their own, but the Bulldogs were just too much in the end. The Horned Frogs had a lead for most of the first half and were still up two midway through the second half when Gonzaga pulled ahead for good on a Malachi Smith three-pointer in transition with 11:36 remaining.
If you pay attention, you'll notice that Julian Strawther, who was credited with an assist on that play, clearly traveled and / or double-dribbled before he threw it to Smith. Strawther advanced the ball up the sideline, got it caught on his leg, took a couple steps, took another dribble and picked the ball up again before he passed it. The referee on the near sideline appeared to be looking back at him as this happened. There's another official on the other sideline also watching. Somehow, nobody saw the clear violation.
Obviously, there was a ton of time left, but still, this was a big missed call on a go-ahead basket. TCU never recovered and ended up losing by three thanks to a last-second cover. There's no way to know if this missed call was the butterfly flapping its wings that propelled the Zags to the win, but this was still a very bad miss by the officials.