Golden Tate Defended the 'Fail Mary' on 'Good Morning Football'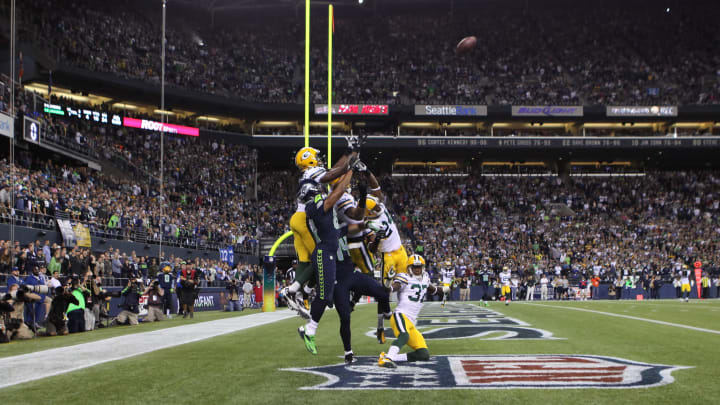 Green Bay Packers v Seattle Seahawks / Otto Greule Jr/Getty Images
Golden Tate has been the fourth person in the studio for Good Morning Football this week and he has been a delight. While the GMFB crew has mostly been nice to the new guy, today they put him on the spot and forced him to watch and defend the infamous "Fail Mary" call as Kyle Brandt and Peter Schrager repeatedly pointed out that it sure looked like an interception..
This play is one of those things where you pick a side and never change your mind. Tate, as the guy credited with the touchdown, obviously will never entertain the thought that he didn't catch the ball.
Tate also told a sad and a funny story that took place because of the play. First, he got a bunch of threats because the Packers, who were favored by 3, were leading by 5 when the ball left Russell Wilson's hand.
Second, Tate revealed that he buys a lot of wine from Charles Woodson. Woodson was Green Bay's starting safey that night. One time Woodson wrote, "It was not a catch," on a bottle.
One thing that happened in the aftermath of the play that Tate didn't mention is that NFL referees were in a lockout at the time. Two days after this game and that call the league and its officials reached an agreement. And as we all know there hasn't been a controversial call since the regular referees started working games again. So thank you Golden Tate.