Baseball Announcers Cannot Stop Getting Hit in the Head With Foul Balls
Ahmed Fareed almost died on Peacock.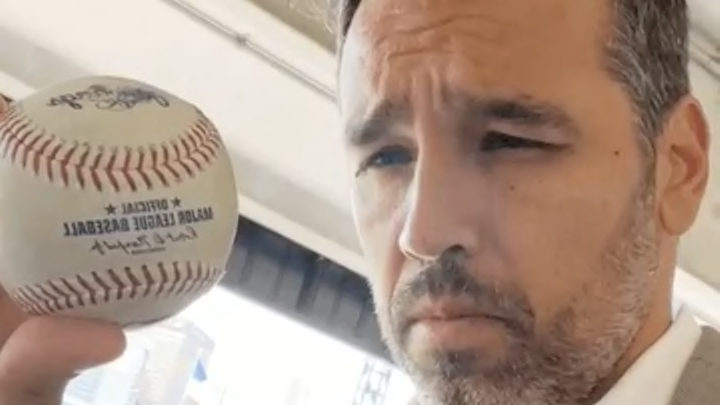 The San Francisco Giants and Pittsburgh Pirates were featured on MLB Sunday Leadoff over on Peacock yesterday. Which put sideline reporter Ahmed Fareed in extreme danger and, much like Jack Reacher, his life almost came to an abrupt end on the banks of the Allegheny River.
Fareed was conducting an interview with Pirates general manager Ben Cherington in the top of the fourth inning when Michael Conforto sent a blistering foul ball directly into the C-Suite. Cherington helpfully provided play-by-play as the sphere grew closer and caused Fareed to take the Lord's name in vain.
If you believe in fate, this was all ordained. Fareed was a middle infielder for the Sparta Spartans in high school and also quarterbacked the football team so one could argue he was the perfect person to protect Cherington and former big league pitcher Dan Pleasac from danger.
And by protect we mean allow his hair to deflect the blow.
Fareed now joins John Sterling in very select company as broadcasters who have been bonked in the noggin by a batted ball this year. Could do wonders for his career.