Giants Screwed By Awful Roughing the Passer Call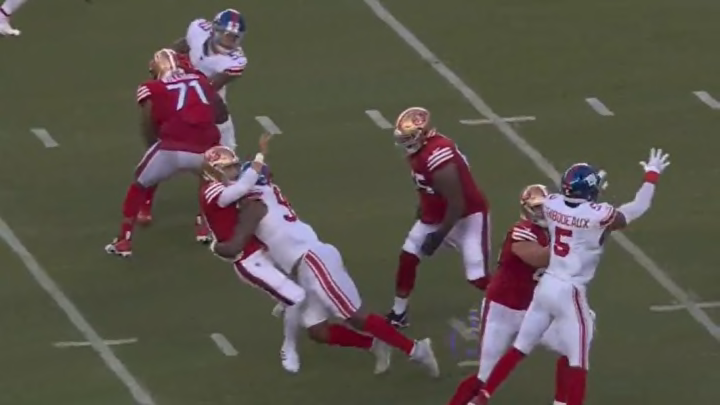 The New York Giants are trying to get their second win of the season on Thursday Night Football against the San Francisco 49ers, and they're not getting much help from the officials. Defensive tackle Leonard Williams was flagged for roughing the passer for hitting Niners quarterback Brock Purdy and we're not really sure what he was supposed to do.
The call came as San Francisco faced third-and-12 from the Giants 20-yard line. Purdy dropped back, and completed a pass to George Kittle for 11 yards, winding up just short of the first down marker. But a flag came in on Williams, giving the 49ers new life.
Here's the play:
That's a flag for tackling Purdy, and I'm not sure how Williams was supposed to avoid doing so. Now, before you say "well he landed on the quarterback" I'll ask, how was he not going to do that? If you're going to call that kind of penalty, just make it two-hand touch on quarterbacks. It's football, guys are going to get hit.
The NFL needs to figure this out and issue realistic guidelines.
Christian McCaffrey scored a touchdown on the next play, giving the 49ers and 17-3 lead. The Giants answered with a field goal and they trail 17-6 at the half.