Brawl Breaks Out Between Giants, Commanders After Late Hit on Sam Howell TD Run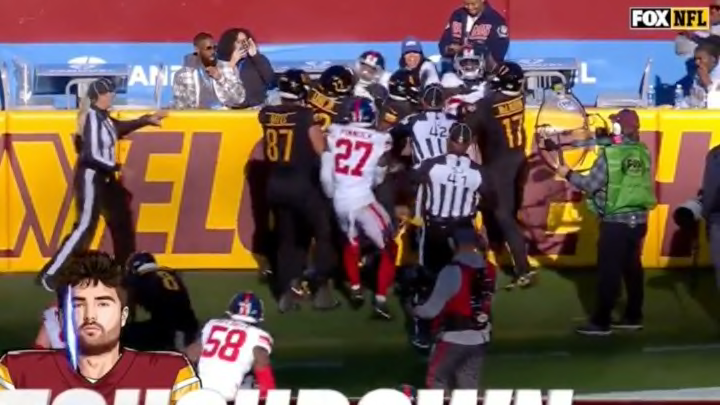 Giants-Commanders /
The New York Giants and Washington Commanders duked it out on Sunday in a matchup of two NFC East teams trying to build for next year. The Giants surprised everybody, including the Commanders defense, by letting Italian Jersey hero Tommy DeVito throw the ball in the first half. Washington thinks they might have their QB of the future in Sam Howell but he struggled to start the game. However, he bounced back with the team's first touchdown drive at the very end of the first half, punctuated by Howell himself running it into the end zone.
It also led to a fight. Howell bounced off several Giants defenders and crossed the goal line, but nobody on the field heard the whistle or saw the official's signal. Howell continued to fight to get into the end zone and got popped pretty good by a few Giants defenders in the process. After the Commanders QB finally hit the ground a brawl broke out as his teammates came sprinting to his defense and the Giants weren't about to back down.
As you can see, Howell was prone this entire time, apparently shaken up by the sequence of events. He would duck into the blue medical tent on the sideline but would return for the Commanders' final drive of the half.
Giants corner Cor'Dale Flott and Commanders wideout Curtis Samuel were both ejected following the fight.
A pretty significant on-field brawl, and the second or third one we've seen this year. Howell himself was at the center of the season's first fight after he got hit late again. At least he should have no doubt about whether his teammates have his back or not.
No love lost between these NFC East rivals. We'll see if the ejections end up having an impact in the second half.