'Get Up' Kept Showing Jeff Darlington and RGIII Checking Their Phones During Seth Greenberg Segment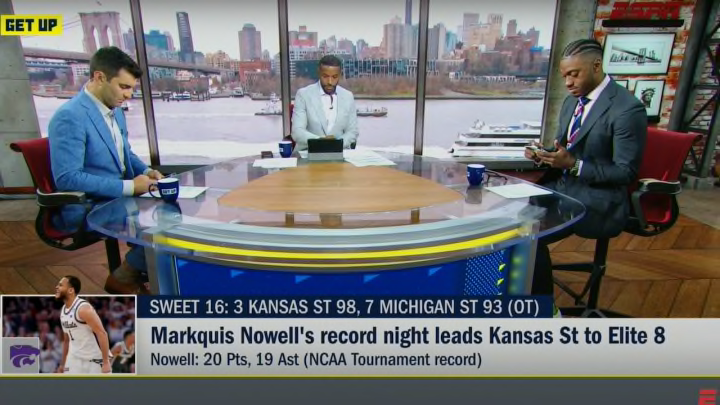 Seth Greenberg called in to Get Up on Friday morning to discuss the NCAA Tournament. With incredible performances by Markquis Nowell and Drew Timme and FAU's Cinderella story, there was plenty to talk about. And if we're highlighting this clip, something interesting must have happened during the segment. But actually, this time it's something uninteresting that took place.
Multiple times during Greenberg's appearance the camera stayed in studio on the wide shot of Jeff Darlington, Robert Griffin III and host Ryan Smith. Clearly, it was supposed to be showing Greenberg. Instead you got to see Darlington and RGIII checking their phones. It first happens at the 0:47 mark and lasted about 40 seconds. Then again at 3:33 for about 25seconds before Smith starts talking again. And then again at 4:10 for another 30 seconds.
Obviously, this is not a big deal. Darlington and Griffin weren't doing anything wrong. This isn't like two guys in a meeting at their office job getting caught looking at their phones during a big meeting. They're looking at notes and tweets and preparing for the next time they're supposed to chime in.
Thank you to ESPN for posting the video though. They obviously thought Greenberg's Markquis Nowell is Patrick Mahomes take was [fire emoji] enough to not need supporting visuals.