Georgetown's Ed Cooley Urges Young Reporters to Grow Up and Ask Tough Questions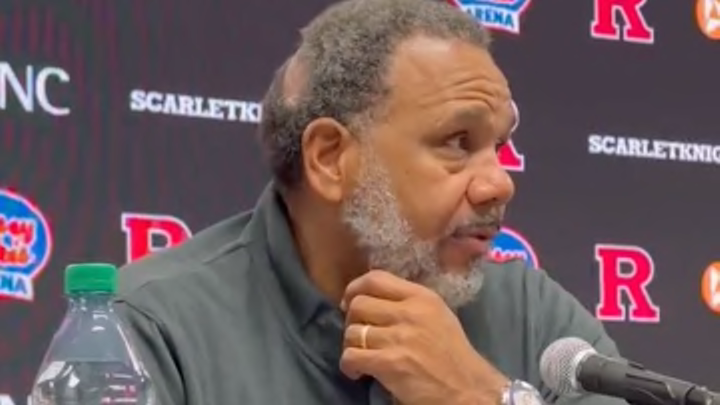 Georgetown visited Rutgers last night and took it on the chin. The Hoyas are now 1-2 on the season. First-year coach Ed Cooley will have to find a way to turn things around if they want any chance of making the NCAA Tournament. March Madness appearances have been few and far in between — only two over the past nine years.
In short, he's tasked with finding some answers to tough questions. And he's not afraid of fielding them, as he took time during his postgame availability to encourage young writers to ask the uncomfortable.
"The only way you're going to get better is by having the courage to ask a question in these types of situations," Cooley said. "So when you guys are sitting there, don't just sit there like a lump on a log. Have a great question. Grow up and learn what it is to ask a tough question. Seriously. We owe you an answer or you owe yourself an opportunity to grow. I say that to all of you young writers. Don't sit in here and just be in awe. This shit is real. Grow up. You're in the room. Learn how to ask some questions."
I suppose there's a way to synthesize this and think Cooley was being preachy or negative but his message on the whole is really good. Those rooms are extremely daunting to those new to a beat or those who aren't at every game. The self-doubt creeps in and so does a genuine fear of asking the wrong thing. Coaches contribute to the problem regularly by bristling or getting needlessly combative when they are asked fair, pointed questions. So you have to respect Cooley for at least vowing not to duck them.
That's a way better approach than seeing one's self above second-guessing or not responsible to a larger fanbase who genuinely wants answers.