George Pickens Had a Sick Catch at Steelers Training Camp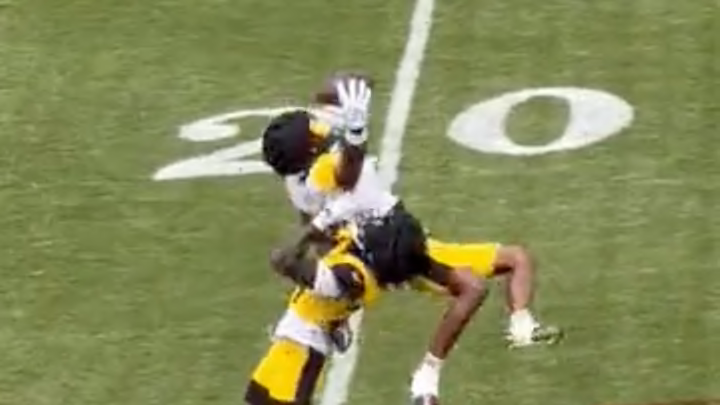 George Pickens /
George Pickens had a solid but somewhat inconsistent rookie season with the Pittsburgh Steelers that showcased all the reasons why he was a highly-touted draft prospect who fell to the second round of the 2022 NFL Draft. He had a few great catches and blocked with a ferocity matched by few wideouts, but also was captured flipping out at his coaches on the sideline after Kenny Pickett failed to get him the ball enough. In many ways he's in the old mold -- a talented wideout capable of insane feats but can run a little hot.
Tuesday brought us a reminder of both sides. Pickens went up and made an absurd catch over his teammate, then he placed the ball in the cornerback's hands and yelled in his face. It was tremendous to watch.
Pickens might be set up for a big year if quarterback Kenny Pickett can get into the habit of looking his way. The similarity of their last names suggests a quality nickname is in the making and it would be a shame for that to go to waste because of the quarterback's tiny hands or whatever.
Football is so back, baby. Love to see it.