Latest NFL Leads
The Seattle Seahawks Came So Close to Having George Kittle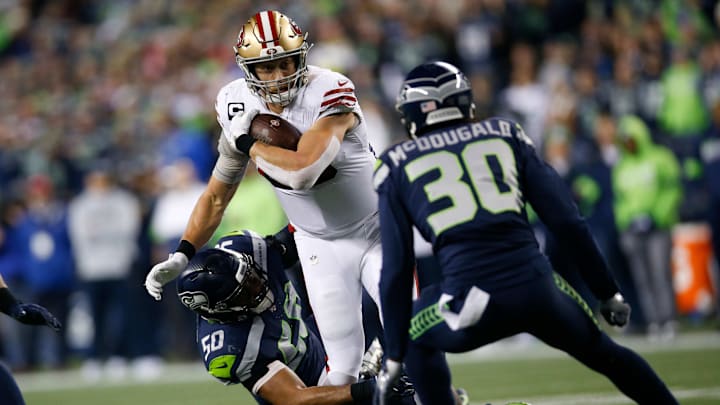 Michael Zagaris/Getty Images
There were 145 players selected before George Kittle in the 2017 NFL Draft. Precious few have been as impactful on the field. The San Francisco 49ers should fall to their knees every night and thank fate for delivering them to handing in an index card with the Iowa tight end's name on it, just in the knick of time. All other teams should be falling to their knees in great lamentation, cursing what could have been. Especially the Seattle Seahawks, who came incredibly close to benefitting from Kittle services.
On Fansided's Stacking the Box podcast, the touchdown enthusiast shared his memories of his draft day, which could have turned out much different.
"My agent says 'the Seahawks are calling and they're trading up to get you.' Then literally I'm on the phone with my agent and I got a call from the Bay Area. He's like, 'hang up on me and answer that.'"
The next thing he knew, he was talking with John Lynch and Kyle Shanahan and making plans together for what he could do for the offense. History truly changes on the hinge of a few seconds.
Russell Wilson with an elite tight end would be quite a sight to see.
This is a juicy nugget and it also goes to show how it oftentimes takes years to understand how important things that happened in the fourth, fifth, or sixth round can be, even if they're hardly noticed or even unknown at the time.