Freezing Fan in Body Paint Who Bet the Under Flies Too Close to the Sun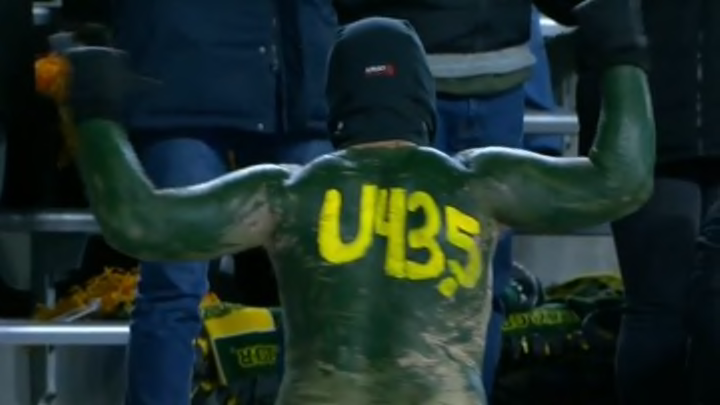 Baylor and Air Force locked horns in last night's Lockheed Martin Armed Forces Bowl, the one time of year we come together to honor the troops through sport. With a historic storm system gumming up the works across the entire Lower 48, gametime temperature in Fort Worth was well below freezing and a brisk wind made it feel like single digits. If you think that would enough to stop a gentleman from showing up shirtless with a sloppily painted chest and an announcement that he bet the under of 43.5 total points, well, it's clear that you do not know ball.
They say 90 percent of body heat escapes through the head, so the ski mask was a smart choice amid a series of poor choices. Including banking on a defensive affair.
Things were going well in that department until late in the fourth quarter when Baylor scored a cosmetic touchdown to make it 30-13, then picked up a two-point conversion to achieve over status.
If only this guy had tried harder and been more committed, there's no telling what would have happened.