Florida's Upset of Tennessee Ended With a Huge Fight Highlighted By Two Players Literally Squaring Up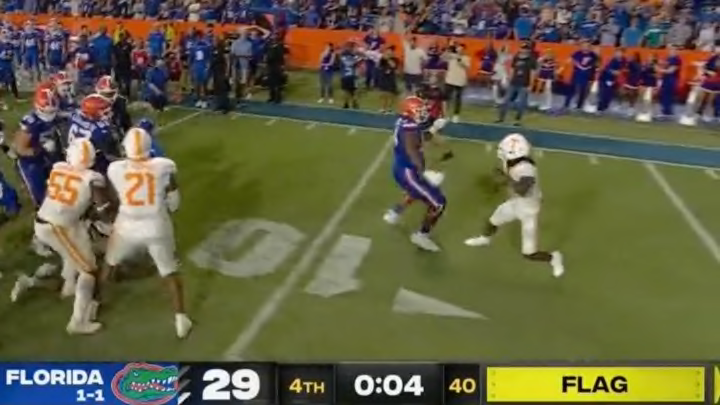 Florida-Tennesse /
Last night gave fans another great chapter in the Florida-Tennessee rivlarly as the Gators took down the No. 11-ranked Volunteers at The Swamp. A 20-point second quarter propelled the home side to the win, and as one would expect from these two sides in a game like this things got chippy as the clcok was winding down.
With nine seconds left in the game and the Gators up by 13, Florida QB Graham Mertz took the snap and backed away from the line of scrimmage, trying to run out the rest of the clock before taking a knee. He danced around for a second too long and ended up getting bowled over by frustrated Tennessee defeneders. This sparked off some pushing and shoving as the sidelines emptied, but the immediate aftermath led to a Gator and a Volunteer literally squaring up with one another.
It was hilarious. Especially as an actual fight erupted right behind them with punches thrown and everyone.
Not the prettiest end to an exciting game but it was somewhat predictable once Mertz started to backpedal.
Another game in the Florida-Tennessee rivalry books and some extra motivation should the two sides meet again this season.