Fernando Tatis Jr. Continues to Crush the Ball at Triple-A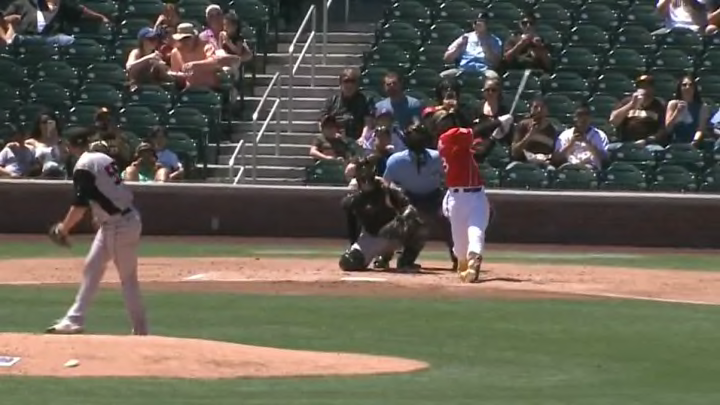 On Thursday, we posted about the torrid pace San Diego Padres superstar Fernando Tatis Jr. is setting during his minor league tune up before returning from his suspension. Well, he's still absolutely murdering the ball. On Sunday, Tatis homered again, giving him six in 16 at-bats over the last three games.
On Sunday, Tatis was 2-for-5 with a solo home run and a single. Saturday night, he went 4-for-5 with two home runs, two singles and three RBI. That added to Thursday night's explosion, where he went 5-for-6 with three home runs, a double, a single and eight RBI. So in his last three games, he is 11-for-16 (.688 batting average), with six home runs, a double and 30 total bases. Yeah, he's averaging 10 total bases a game.
At one point on Saturday during a stretch of seven at-bats, he was 7-for-7 with five home runs.
Overall in his eight-game Triple-A stint with the El Paso Chihuahuas, Tatis is hitting .536, with an on-base percentage of .618, while slugging 1.250. That's an OPS of 1.802. Only slightly better than Max Muncy's recent numbers.
Tatis is eligible to return to the Padres on Thursday. It seems like he's ready. Barring any setbacks, his Thursday's return will mark his first MLB action in 18 months.