Fan Falls Onto Citi Field During Giants-Mets Game, Has a Sick Story to Tell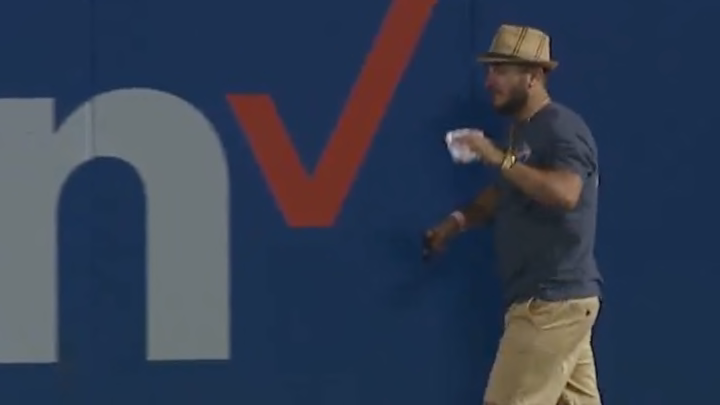 Play was briefly halted in tonight's San Francisco Giants-New York Mets game at Citi Field after a fan seated in in deep left center apparently fell onto the warning track. Which had to hurt. Thankfully, security took it easy it him and he was seen back in the stands telling someone a story he will surely tell thousands of times going forward. What are the odds of something like that happening to someone wearing that hat?
The New York Post is saying that this was about a 12-foot tumble, meaning this could have been much, much worse. As it stands it just looks like — and this is non-doctorly speculation — a bit of a bloody nose and the loss of an expensive drink, which met its ultimate end between the lines.
If this dude has to go into the office tomorrow he's going to absolutely hold court at the water cooler. Probably for the full week actually. How could anyone be talking about anything other than Glenn from creative or whatever nose-diving during a national televised MLB game and doing what he can to bring back the timeless fashion of the ska era?