Enes Kanter Freedom Named 'Most Valuable Patriot' By FOX Nation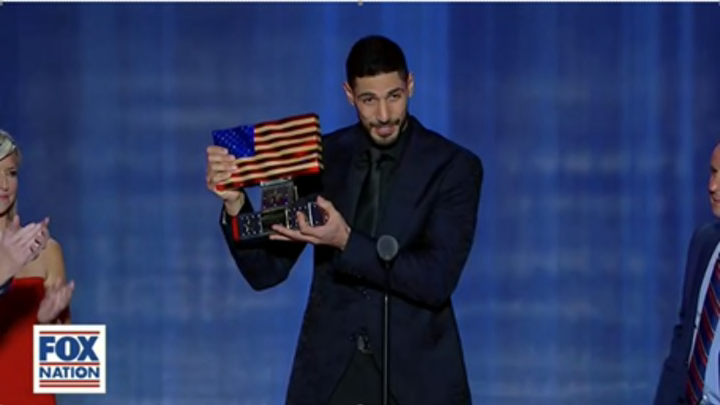 Enes Kanter Freedom picked up some hardware last night as he was named Most Valuable Patriot at FOX Nation's fourth-annual Patriot Awards in Hollywood, Florida. Kanter, who last played in the NBA on Feb. 8, was honored for his human rights activism during a night to honor first responders, the military, Gold Star families and other everyday heroes.
The 6-foot-10 center played 11 years in the league before transitioning to becoming a full-time activist. He's reliably there to play defense on LeBron James and one the most outspoken critics of of the NBA's relationship with China.
"Whatever happens in life, always stand for the truth," Kanter said during his acceptance speech. "Stand for justice and stand for whatever you believe in, even if it means sacrificing everything you have."
"People should feel blessed to be in a country like this," he added. "What I love about being American the most is the freedom we have. The reason I wanted to add freedom behind my jersey was to remind every kid in America of how blessed they are in the best place in the world. I believe America is going to have even better years going forward. That is giving me so much motivation to fight for what's right. I represent freedom. That's like the best thing that I could do."