Emmanuel Acho Will Not Speak on Justin Herbert-Tua Tagovailoa Debate For Rest of Season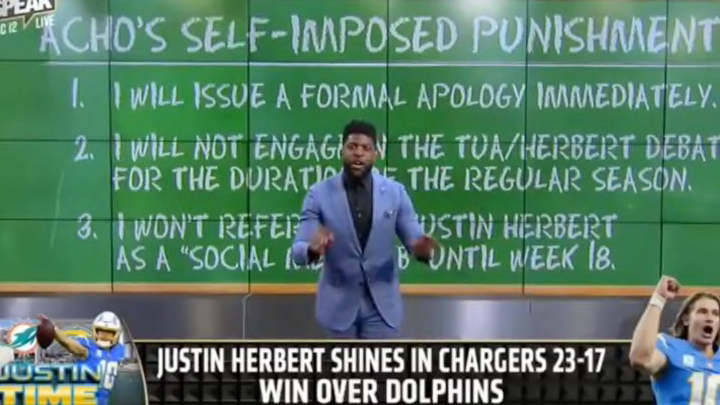 Emmanuel Acho's agenda took a tremendous hit last weekend when the Los Angeles Chargers beat the Miami Dolphins on national television. Justin Herbert outplayed Tua Tagovailoa to a nearly comical degree. Acho had to watch as his claims about Herbert's alleged status as a "social media quarterback" who is not actually any better than Tagovailoa fell apart.
On Monday, Acho took his medicine and apologized on Speak for doubting Herbert before announcing several self-imposed punishments that will last the rest of the season. In particular, Acho will not talk about the Herbert-Tagovailoa debate until season's end.
Acho has certainly rode this storyline into the ground and got every last bit of juice out of it, that's for sure. The Tagovailoa supporters of this argument can take great pleasure in the above segment. And nobody has to deal with this whole social media quarterback thing for a few months so we're all winners, really.