Jalen Hurts Nearly Crushed by Fans Falling Out of Stands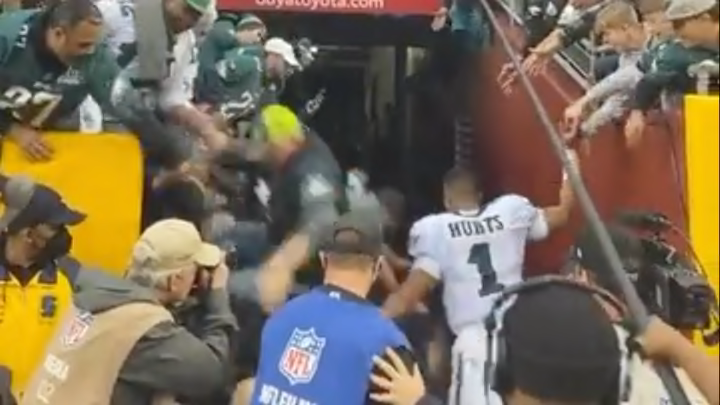 Jalen Hurts /
Jalen Hurts came into FedEx Field today and left with a massive win over the Washington Football Team. Hurts' Philadelphia Eagles managed to secure a 20-16 win with a clutch interception to end the game. The Eagles are 9-7 and this win gave a big boost to their playoff chances.
Afterwards, Hurts was strolling off the field when he was nearly crushed by a bunch of Eagles fans, who were crowded around the tunnel. The gate holding them back collapsed and they all tumbled towards Hurts. Fortunately, Hurts avoided injury and so did everyone else.
The fact that nobody appeared to get hurt makes this nice and it was pretty fun watching all those fans clutch Hurts like he was their savior. But just imagine for a second, if you will, how badly this could've gone.
FedEx Field has been in the spotlight this season a few times because of things going terribly wrong, including a possible sewage pipe burst in the opening week of the season. The Eagles would have been infuriated if the poor quality of construction led to their starting QB getting hurt, and the fans who took the tumble absolutely can and maybe will file a lawsuit. Dan Snyder needs to get his act together. It's embarrassing for everybody involved.
Anyway. Glad everyone appears to have emerged unscathed here.