Eagles, 49ers Brawl in Final Minutes of NFC Championship Game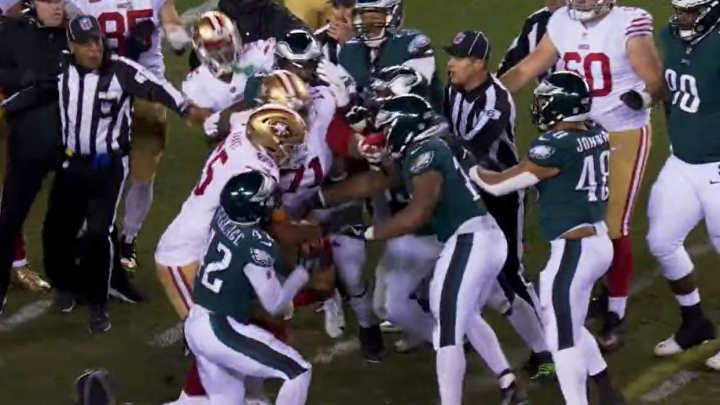 The San Francisco 49ers and Philadelphia Eagles didn't give us much of a contest during the NFC Championship Game, it took a fourth quarter fight to create a spark. With the Eagles up 31-7 late, both teams got into it on the field, and several punches were thrown. It was a legit fight, not just pushing, shoving and jawing.
The 49ers had the ball on a late drive and things got chippy between the linemen. Here's what happened:
Another angle of Trent Williams throwing K'Von Wallace:
Williams and Wallace were both ejected.
The tensions are still simmering and both sidelines tried to calm the guys on the field. The 49ers are clearly frustrated after losing their starting quarterback, then their backup to injury, which forced Brock Purdy to return at quarterback with an injured arm. The day has not been kind of San Francisco and the frustration has begun to boil over.
The NFL will likely be handing out some substantial fines this week.