Drew Timme Struggled to Work Clean in His Postgame Interview With Andy Katz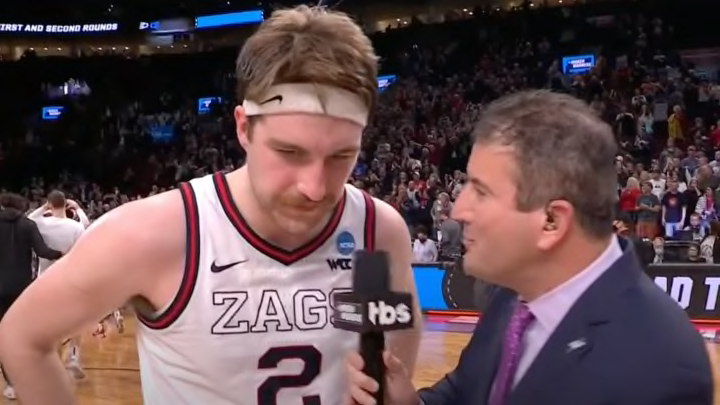 Every time Gonzaga and UCLA find their way to each other in the NCAA Tournament, something incredible happens. There was the epic 2006 Bruins comeback that turned Adam Morrison into a puddle. There was Jalen Suggs' Final Four buzzer-beater. And last night there was Drew Timme channeling excellence in a thrilling come-from-behind victory that catapulted the Bulldogs into the Elite Eight.
Timme, who scored 36 points on 16-of-24 shooting and grabbed 13 rebounds, ensured that his unique personality will continue to be a March Madness focus and earned himself a few postgame interviews. Where he continued to deliver the good content.
Check out this two-minute hit with Andy Katz where the Bulldogs' star did his very best to work clean like a comic who booked an uptight corporate retreat gig.
You can actually see the gears grinding each and every time he wanted to work blue.
Try as he might, he simply could not escape without dipping into a more authentic vernacular.
Which is great! It's great to have this guy advancing. What he did on the floor last night was as impressive as any performance you'll ever see with elimination on the line, including the one Markquis Nowell put on for Kansas State a few hours earlier. Timme was unstoppable scoring the ball with an array of post moves and nearly flawless in playing selfless ball to set his teammates up for open shots.
Sure, he might be the player the masses most love to hate but having a spiritual successor to Christian Laettner knocking around is wonderful for the tournament.
This will surely come back to bite me, but I really think this is the year Gonzaga finally climbs to the top of the college basketball mountain and cuts down nets in Houston.