Drew Smyly Loses Perfect Game in Worst Way Possible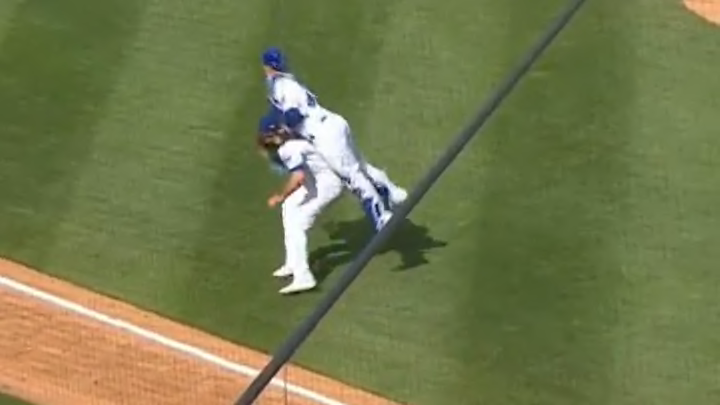 Drew Smyly was cruising Friday afternoon and looked like nothing could stop him. The Chicago Cubs lefty took a perfect game into the eighth inning, with his team up 13-0 on the visiting Los Angeles Dodgers. He looked unstoppable. That is, until his own catcher stopped him.
To start the eighth, David Peralta pinch hit for Max Muncy, attempting to jumpstart a dormant Dodgers lineup. On a1-1 count he made contact and the ball went maybe 20 feet. Smyly raced to make a play and that's when catcher Yan Gomes came into the picture.
As Smyly picked the ball up to make a throw to first, Gomes ran right into him, knocking him out. Peralta cruised to first safely. The first baserunner of the day came on a swinging bunt where Smyly's own catcher took him out.
Watch:
That's just ... wow. The worst way to lose a perfect game or a no-hitter. Horrible.
I think it's worth noting that, frankly, it would have been nearly impossible for Smyly to make this play. It was slow developing, he'd have been throwing the opposite direction from his momentum and Peralta runs well. Still though, it's just brutal.
Smyly got the next two hitters out and departed after 7.2 innings having only allowed Peralta's hit while striking out 10 on 103 pitches. Reliever Jeremiah Estrada finished the last 1.1 innings, allowing only two walks and finishing out the one-hitter.
MLB fans will have to wait longer for the sport's 24th perfect game.