The 'Never Forget' 9/11 Mets-Yankees-Jets Parlay is Quite Something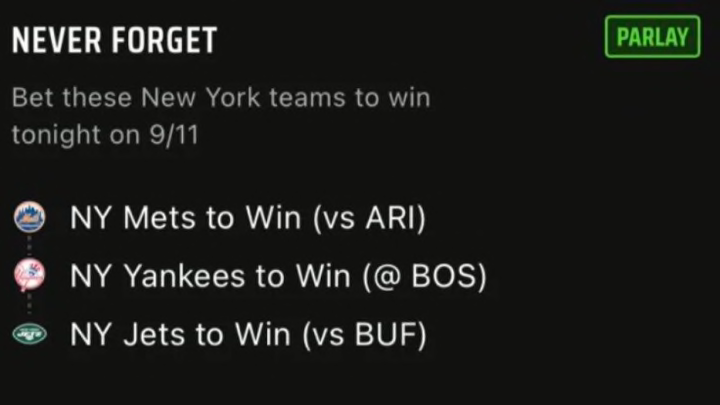 It is a tough day to be online because things may not land they way they are supposed to land and everyone is looking for a main character. People are just doing their best and sometimes mistakes are mad. With that necessary backdrop, we present a 9/11-themed parlay briefly featured by an online sportsbook before someone pointed out that perhaps it wasn't the best idea to package the New York Mets, Yankees, and Jets together in this fashion.
It's quite a thing to imagine typing "Never Forget — Bet these New York teams to win tonight on 9/11" into a system and, honestly, there is probably only one person in the world who has ever done it. Things were already off the rails before the popularity of such a somber tribute parlay went through the roof and earned a flame emoji, but that certainly didn't help.
Even more messed up is the realization that there are going to be some people out there fading the picks. Because there always are.
UPDATE: DraftKings released an apology later in the day on Monday.