Video of Donald Trump Walking In an 8-Foot Putt May Explain His Many Club Championships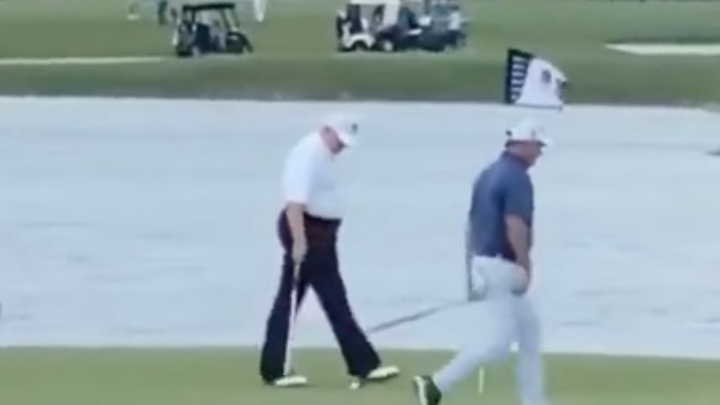 Donald Trump /
Donald Trump's golf game has long been a subject of fascination and clips of the former president on the links have begun to surface in recent months. The crown jewel of which was a video of Trump aggressively shanking a wedge shot. On Wednesday another such clip hit the internet and it may explain a lot about his constant claims of success out on the course.
Here's video of Trump taking a gimme on what must be at least an eight-foot putt. His circle of friendship is... generous, apparently.
That's the brushing putt of someone who has a nine as they're walking to the green and the group behind them is catching up so they just kinda shove the ball along and keep it moving. But obviously Donald Trump, of all people, is not worried about pace of play nor what he is actually shooting out there. So it's probably closer to an approximation of how he putts every time.
Which sheds some light on his claim from a few years ago that he has won 18 club championships. Or that he won a tournament earlier this summer by shooting a 67. I would also have that many championships if all my putts within a dozen feet were considered good.
Not that any of this comes as a surprise but it's something else to see it in action.