Latest College Football Leads
Two Years Ago Donald Trump Treated the Clemson Tigers to a Fast Food Feast and Then Tweeted About 'Hamberders'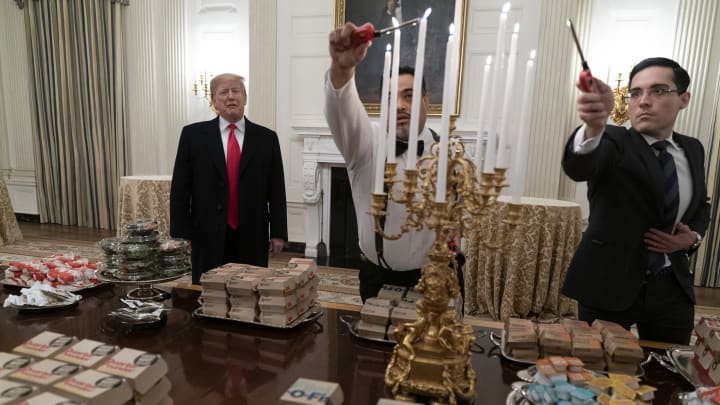 President Trump Hosts College Football Champion Clemson Tigers At White House / Pool/Getty Images
It has been two years since the Clemson Tigers won the 2019 College Football Playoff National Championship, blowing out Alabama, 44-16. Dabo Swinney, freshman Trevor Lawrence and the rest of the Tigers quickly accepted a visit to the White House to commemorate their undefeated season and take some photographs with Donald Trump. What happened next is one of the most iconic moment's of Trump's presidency.
Instead of standard photos of Trump with the team, the only photos from that night that anyone will ever remember are the images of the spread. Trump fed them fast food. A lot of fast food. Hundreds of items from McDonald's, Burger King and Wendy's were purchased for the Clemson players that actually chose to attend. The next morning, Trump tweeted the following. Via USA TODAY:
""Because of the Shutdown I served them massive amounts of Fast Food (I paid), over 1000 hamberders etc. Within one hour, it was all gone. Great guys and big eaters!""
He then deleted that tweet because of the incredible "hamberders" typo, not knowing that if he just waited two years, Twitter would have taken care of it for him. Either way, the meal and the tweet will live on forever.
President Trump Hosts College Football Champion Clemson Tigers At White House / Pool/Getty Images