Gavin Lux Carted Off Field Following Non-Contact Leg Injury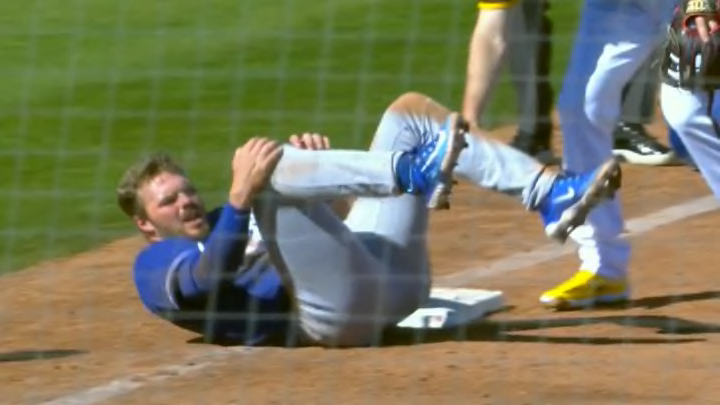 The Los Angeles Dodgers are hoping the development of Gavin Lux will make them forget about losing Trea Turner this offseason. The 25-year-old infielder and former top prospect has been tabbed as one of MLB's potential breakout candidates in 2023. Unfortunately, those plans may have been derailed already.
During Monday's spring training matchup against the San Diego Padres, Lux suffered an ugly leg injury while running from second to third on an infield grounder. It was a non-contact injury that looked particularly gruesome. Everyone on the field -- from both teams -- looked seriously concerned and Lux had to be carted off.
Here's video of what happened, but be warned it's pretty nasty:
Yikes. That is not pretty.
Lux has yet to play more than 129 games in a season for the Dodgers. He did that in 2022, while slashing .276/.346/.399, hitting six home runs, driving in 42 runs and posting a 3.0 fWAR. More has been expected of him but he has yet to really break out. The hope was he'd take that next step this season with Turner having departed for the Philadelphia Phillies over the winter. Lux was penciled in as the team's starting shortstop.
Hopefully the injury looked worse than it actually was.