Devin Booker's Instinct to Complain to Refs Cost the Suns Game 1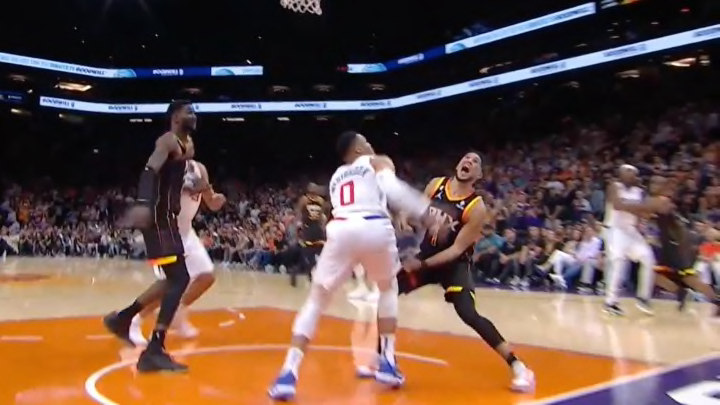 Russell Westbrook and Devin Booker /
On Sunday evening, the Los Angeles Clippers went to Phoenix and stole homecourt advantage from the Suns by winning Game 1. It was a very exciting affair, a wire-to-wire effort from both squads that perfectly displayed why it was the most-anticipated first-round playoff series of the year. Russell Westbrook earned the game ball after a tremendous defensive effort and he made the play of the day by forcing a Suns turnover with fewer than 10 seconds to go and the Clippers up by three.
It was an awesome play made possible by Devin Booker's instinct to immediately complain to the refs instead of playing through the whistle. Observe!
This should not take away from how great of a play this was from Westbrook. Not many guys can see through the adrenaline in that moment and have the awareness to jump back in the air to throw the ball off the opponent. It won the game.
But Westbrook was only afforded the window to throw the ball off Booker because the Suns superstar just had to complain as soon as he could about the lack of a foul call. There is no excuse for it. With the game on the line you gotta play through the whistle. Booker didn't and it secured the Clippers' win.