Desmond Howard's College Football Playoff Picks Are Insane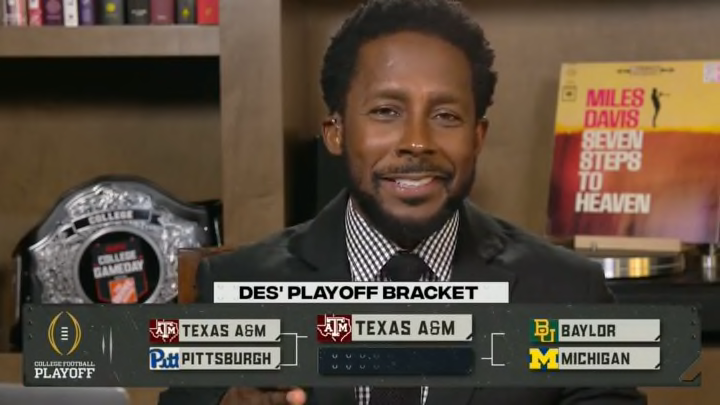 Desmond Howard /
It's Week 0 in college football which means the time is right to make some bold predictions that people probably won't remember. Desmond Howard, however, took things a bit far on the season's first College GameDay and will probably be reminded of his takes when the season ends. Especially in the unlikely event that he is right.
Howard was asked to take the long view and predict what teams will end up in the College Football Playoff bracket. He, uh, made some choices.
Somehow, Howard's safest choice is having Michigan return to the final four after they made their first appearance last year. Pitt is an especially wild take considering their starting QB from last year is currently battling with Mitchell Trubisky for the starting gig across the way in the Steelers' facility. Three of the four teams listed would be making their first-ever CFP appearances.
We may as well call Howard omniscient if he is anywhere near right. Alabama has appeared in every playoff but one since its inception in 2014. Leaving them off while Nick Saban is still in charge is nuts, and doing so while they return the Heisman Trophy winner from last season? Borderline blasphemous, really.
Hats off to Howard for at least making things interesting. There's only so much content to be drawn from predicting some combination of Alabama, Ohio State, Clemson, and another SEC team.