Derek Jeter and Alex Rodriguez Sitting Courtside is a Disaster for the Miami Heat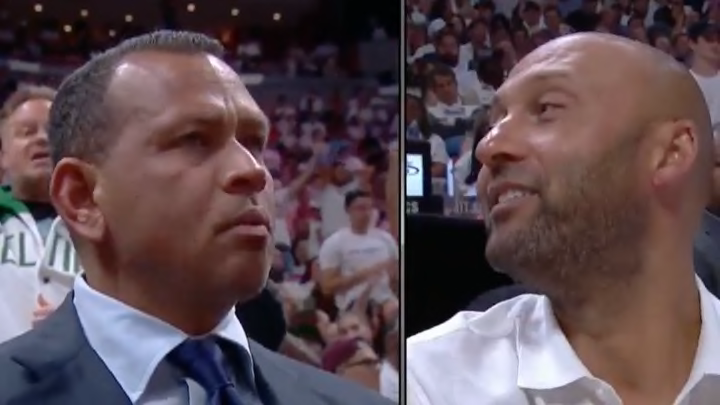 There was one thing and one thing only that the Miami Heat could not do while enjoying a 3-0 lead in the Eastern Conference Finals and riding a wave of destiny. And that was allow the Boston Celtics to start to believe. Or really do anything that would give life to a city that's been in a daze ever since the Florida Panthers stunned the Bruins in the opening round of the Stanley Cup Playoff. Anything that would build upon Marcus Smart and Jaylen Brown channeling Kevin Millar by warning the Heat not to let them win one last night.
Like having Alex Rodriguez and Derek Jeter, two members of the 2004 New York Yankees team that allowed Dave Roberts to steal a base, Pedro Martinez to get a start, Curt Schilling to wear a sock and Johnny Damon to hit a grand slam during the most memorable series comeback in sporting history into the building.
But there they were on TNT for all the world to see, potentially changing everything.
Either because it's a make-or-miss league or Jayson Tatum was inspired by memories of something happened when he was six-years old, the Celtics staved off elimination for another day by outshooting their hosts from beyond the arc. Game 5 is in Boston and it sure feels like there will be a Game 6 back on South Beach.
Erik Spoelstra's team really shouldn't have let them win one. Because now they have to deal with hope flickering a bit brighter and replacing some of the Roman Roy-approved pre-grieving that was happening on the Sports Hub.
The whole mystique of a 3-0 series lead feels a bit like the No. 16-over-No. 1 thing in the NCAA Tournament. There were some close calls before it happened once. Now it's happened twice and will likely continue to happen with some frequency. Boston is a very good basketball team and now only needs to win two home games and a road game. It's certainly not impossible!
Now, I guess there's no way this could have been prevented. It's not like Jeter and Rodriguez came together. And it's not like you can really tell these cool guys "no, you can't sit courtside" because they lost the ALCS 19 years ago. Or maybe you can.
Guess we'll find out in Game 6, which is for sure going to happen.