Fox Sports Cameras Capture Denny Hamlin Opening Porta-Potty Door on Brad Keselowski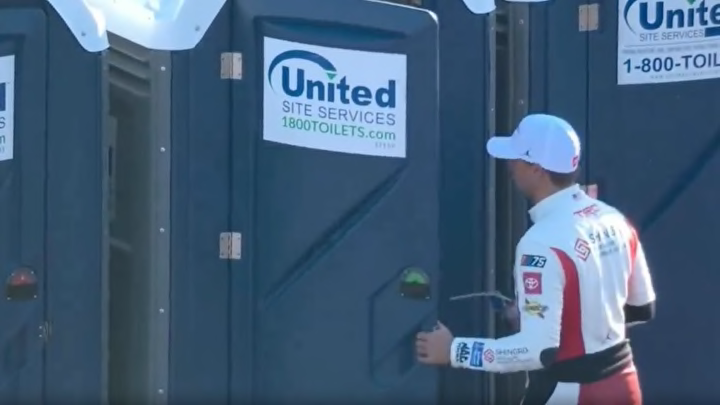 Whoops /
In an informative moment for those who wonder about such things, the Fox Sports broadcast team followed NASCAR driver Brad Keselowski as he made beeline for a Porta-Potty following yesterday's race in Atlanta. It turns out the racers do just hold it for the entire race. The camera stayed on Keselowski throughout the duration of his stay in the Porta-Potty and managed to capture Denny Hamlin wandering over and opening the door on Keselowski, who did not have the presence of mind to lock it.
Matters were urgent, it seems.
The broadcast team presumably followed Keselowski for that long because he lost the race on the final lap and were hoping for some post-match fireworks. Instead, they got... this.
Hamlin clearly saw the humor in the situation and tweeted out later that smelled like "Hawaiian rolls" in the bathroom. Keselowski is sponsored by King's Hawaiian.
Outstanding content. Thanks to Fox Sports for granting us this inside access.