Things Still Seem Chilly Between Deandre Ayton and Monty Williams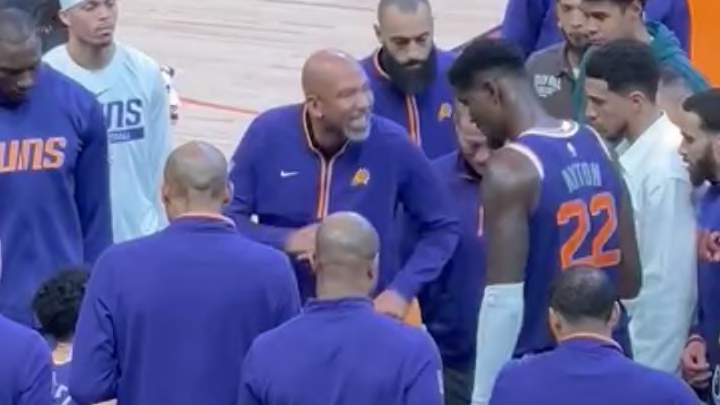 Deandre Ayton and Monty Williams /
The Phoenix Suns' 2021-22 season ended so catastrophically that the apparent issues between Monty Williams and Deandre Ayton went a bit under the radar. Ayton only played 17 minutes in his team's 33-point Game 7 loss to the Dallas Mavericks and did not appear in the fourth quarter. When asked about it afterwards, Williams snapped at reporters that it was internal. For an extremely even-keeled head coach he may as well have screamed about how mad he was at Ayton.
Despite that, the Suns still matched the max offer sheet Ayton signed with the Indiana Pacers last summer and went into the 2022-23 season with the same core. Ayton and Williams reportedly did not speak all offseason, which wouldn't be too out of the ordinary if not for how the season ended so dramatically between the two. All their interactions are under a microscope, which is why we find ourselves here, highlighting a heated exchange between the two during last night's loss to the Washington Wizards.
All parties involved downplayed it after the game, giving the usual soundbites about heat of the moment conversation and how everyone was just frustrated with the way they were playing. And that's all probably true. We've seen more heated sideline disputes.
But! That's what happens when the internal conflict squeaks its way into the public eye. Everything is viewed differently. And with the context of all that's happened between Williams and Ayton, this doesn't seem great.