Deandre Ayton Really Did Not Want to High-Five Chris Paul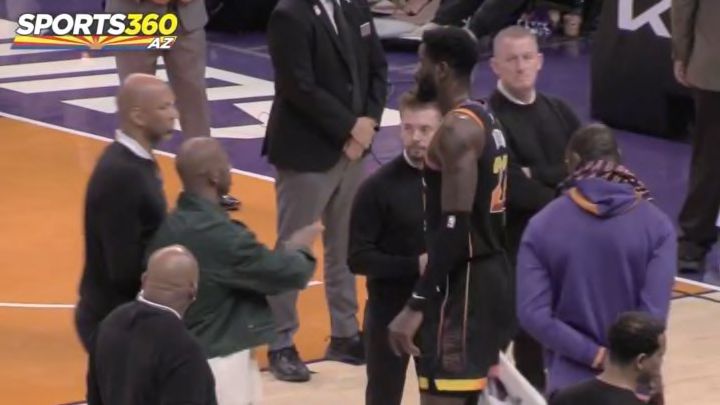 Deandre Ayton and Chris Paul /
The Phoenix Suns avoided going down 3-0 to the Denver Nuggets by taking Game 3 last night thanks to the incredible combined efforts of Devin Booker and Kevin Durant. The pair put up 86 points in the absence of Chris Paul, out with a groin injury, and staved off a late Nuggets push to keep themselves in the series. While the result was positive for Phoenix the performance of one Deandre Ayton was not at all encouraging and one particular interaction with Paul in street clothes suggests yet again that not all is well with Ayton.
The Suns really need Ayton to step up without their point guard and he simply did not last night as he put up a whopping four points and nine rebounds. He was benched for backup big Jock Landale in crucial moments, including the final stretch of the game. At one point, Ayton was unhappily pacing around during a timeout and blew off a CP3 high-five not once, but twice.
Ayton rarely seems to be a happy camper in the playoffs. We have closely followed his issues with head coach Monty Williams that began during the team's blowout Game 7 loss to the Mavericks last year and it carried over into this season. Now he's getting so mad about his own poor performance he won't engage with his teammates during a season-saving victory.
Not great. Not great at all.