Dave Martinez Is Now the Only MLB Manager to Win a World Series with His Current Team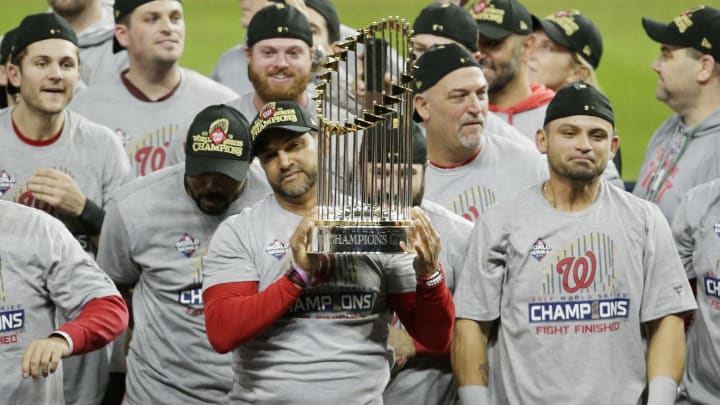 Dave Martinez stands alone. With the firings of Alex Cora and A.J. Hinch this week, the Washington Nationals manager has become unique in his sport. He's the only manager in Major League Baseball to have won a World Series for his current franchise. And it just happened in 2019.
With Cora and Hinch gone from the game -- at least for now -- there are only four World Series-winning managers left. Martinez is the most recent, but Joe Maddon, Joe Girardi and Terry Francona have done it as well. The thing is, Maddon, Girardi and Francona did it at previous stops.
Maddon left the Chicago Cubs -- who he led to a title in 2016 -- this offseason for the Los Angeles Angels. Girardi was hired by the Philadelphia Phillies in October, but led the Yankees to a title in 2009. And Francona has reached the World Series as manager of the Cleveland Indians, but won both of his titles with the Boston Red Sox, in 2004 and 2007.
Things get even crazier if you consider just what's happened in just the last decade. Maddon and Martinez are the only active managers to win the World Series since 2010.
The point here is that World Series-winning managers don't just grow on trees. They're incredibly rare, which makes the removal of both Hinch and Cora that much more consequential. It also means that both of those guys could find employment quickly when their suspensions end -- we're assuming Cora gets suspended as well.
With Bruce Bochy and Ned Yost retired, there just aren't many guys around who've led teams to World Series titles. Some new blood will have to step up and change that.