Davante Adams Shoved a Cameraman on the Way to the Locker Room After Raiders - Chiefs Game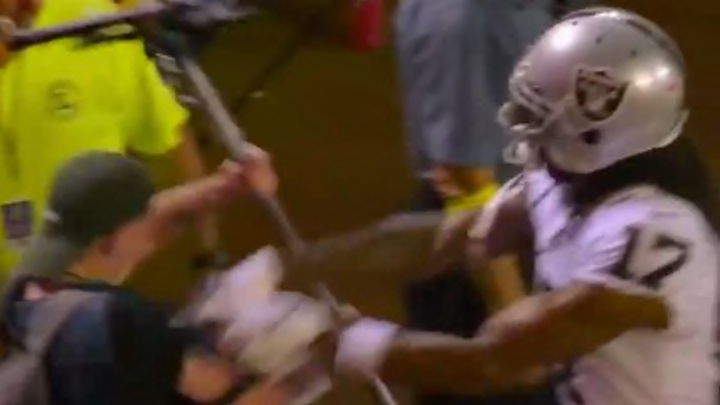 The Kansas City Chiefs came back and then held on against the Las Vegas Raiders, 30-29, in the final game of Week 5. Facing 4th and one from their own 46 with less than a minute remaining Derek Carr threw the ball deep as two of his receivers went down. The live shot looked like it might be pass interference, but upon viewing the replay it turned out to be the Raiders Raiders-ing.
Hunter Renfrow simply took out Davante Adams and it turned out to be a good no-call by the officials.
The pass was likely meant for Adams, who had 124 yards and two touchdowns on just three receptions. Adams was not happy about the result and was shown slamming his helmet on the sideline.
Then on the way to the locker room Adams shoved a cameraman who was just trying to do his job.
Adams will be looking at a fine and maybe a suspension for that.
UPDATE: Adams apologized for pushing the unidentified man and tried to explain what happened after the game.
The Raiders are now 1-4 while the Chiefs are 4-1 and alone atop the AFC West. The Chiefs are not a last place team.