Dan Orlovsky: Tom Brady Should Join Carolina Panthers Next Year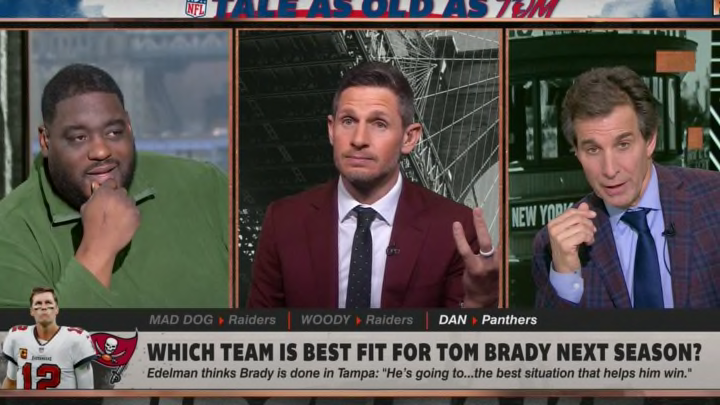 Shock on the 'First Take' set /
Most signs point to Tom Brady's tenure with the Tampa Bay Buccaneers ending with Monday night's Wild Card loss to the Dallas Cowboys. Whether he retires or plays somewhere else in 2023, pretty much everybody is assuming he played his last game in a Bucs uniform. Since there is not a lot of content to be drawn from theoretical retirement scenarios, many daytime sports talk blocks have been dedicated to where Brady could play next year if he does not hang up the cleats.
Such was the case on First Take and Dan Orlovsky got everybody's attention by suggesting Brady play for the Carolina Panthers next season.
Orlovsky's argument about why Brady wouldn't return to the AFC is very good and should be remembered as we continue to discuss the Brady sweepstakes going forward. As for his Panthers argument... well, it doesn't quite pass the sniff test.
Orlovsky names three boxes that must be checked for Brady to even consider a team in terms of their personnel-- a top-five offensive line grouping with an emphasis on interior dominance, two perimeter weapons, and a top-five defense. If how good their end-of-season run game was any indication Carolina has the potential to boast a top-five line. The Panthers have the talent on defense to be a top-five unit on that side of the ball.
His argument starts to fall apart at the two perimeter weapons box and things do not get better from there. The Panthers have D.J. Moore who is probably a Pro Bowl-caliber wideout with a decent QB but still isn't in the same ballpark as Mike Evans or Chris Godwin. After that ... who does Carolina have? Terrace Marshall Jr., who recorded 490 yards in 2022? Laviska Shenault, recently traded by the Jacksonville Jaguars? There is no argument to claim the Panthers have a decent No. 2 option and there is no simple path to acquiring one, either.
Then there's, ya know, everything else about Carolina. They have no coach because their owner got conned into giving Matt Rhule a six-year deal that he wanted out of after two years. The whole organization has been the model of dysfunction since, like, 2017. All the points in their favor I made above regarding the offensive line and defense are in theory. In practice, Carolina needs a lot to break right to have a top-five OL and defense. The only thing the Panthers have going for them in any concrete way is that the division sucks and basically guarantees Brady a legit shot at a top-four seed.
This is not the 2019 Buccaneers who clearly exhibited a body of work indicating there was a good team around Jameis Winston. In fact, that sort of team doesn't appear to exist right now. The closest thing we've got is the Niners and the only way they ditch Brock Purdy for Brady is if Purdy fails spectacularly sometime in the next two weeks.
There's no easy choice for Brady this time around. But it would be truly astonishing if the Panthers ended up in the running unless David Tepper agrees to let Brady be god-emperor in the organization and hire his own coach while making big changes to the roster. Which seems unlikely. Orlovsky gets points for cooking up a creative angle on the already-tired Brady free agency debate but it isn't going to happen.