Keyshawn Johnson Horrified by Dan Orlovsky's Joe Montana Slander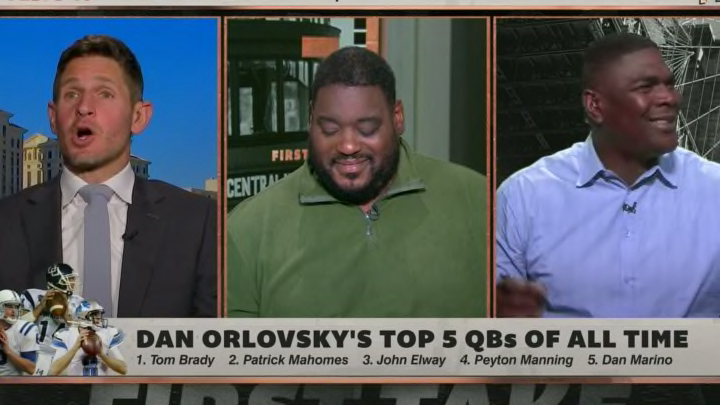 First Take /
Tom Brady retired for the second time earlier this week which means a large chunk of non-Super Bowl discourse is going to be ranking all-time quarterbacks. Brady is, obviously, No. 1 for most people not named Mike Francesa but there is a lot of debate to be had about the spots after him. The topic came about on First Take today and Dan Orlovsky caught a lot of heat from Keyshawn Johnson about his top-five QBs ever list.
Orlovsky has Brady at the top, followed by Patrick Mahomes, John Elway, Peyton Manning, and Dan Marino. Which is... quite a list. One that Keyshawn Johnson had a lot of problems with. Specifically the complete lack of Joe Montana on there.
The show was probably supposed to move on quickly from there but Johnson would not let it go and at one point asked Orlovsky what was wrong with him. It made for great television.
Tremendous stuff. You cannot fake the shock and legitimate bafflement in Johnson's voice. Here's the full segment if you want to enjoy 15 minutes of all this.
If Orlovsky was indeed trolling as Johnson accused him, it was a job well-done.