You're Damn Right Dan Campbell Is Out There Doing Up-Downs With the Detroit Lions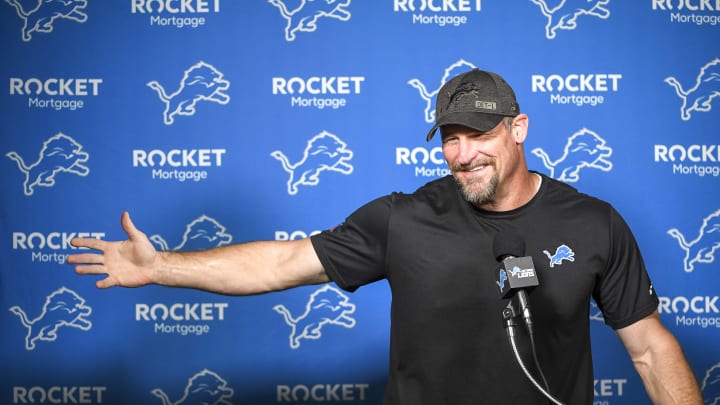 Nic Antaya/Getty Images
This is a pro-Dan Campbell blog for better or worse as we steer into the skid. With the necessary caveat that the Danimal's time shepherding the Miami Dolphins failed to yield success, his unique personality has injected more energy into a cursed Detroit Lions franchise and fans are as excited as they can be about the silver-and-blue. Campbell simply cannot help himself from doing stuff that tickles the fancy of social media with its inherent ridiculousness. From eating knee caps to identifying himself as The Dude to attacking each day like there's a mountain of glass to chew, if it's weird, there's a good chance Dantallica will be diving in headfirst.
Which he did literally during the Lions' training camp. Not content to simply ask his team to do up-downs, Campbell joined in himself. Because of course he did and that body doesn't come by accident.
This is cheesy and hokey and those other things. And yet, I find it somewhat endearing and refreshing. Trying something extremely different was exactly what the Lions needed to do. Even more than that, I think Campbell can establish a very specific but profoundly positive and unique culture, then build it with those who buy-in.
It's entirely possible he's also doing these things to take the focus and pressure off a team that will take some lumps for awhile before growth can be assessed. Might be outsmarting us all in a very clever way.